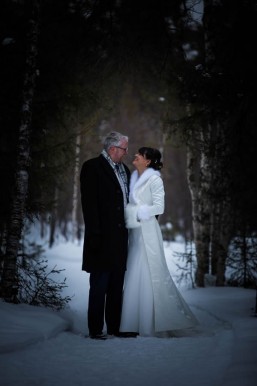 When we decided on a snow wedding we thought we'd stay "in house" with our tour operator.

However it quickly became clear that we would have to fit in with their options rather than they do what we wanted for "our" day.

We'd already decided on Levi in Finland as our wedding location and we found Sun and Snow Weddings after a brief internet search and decided to use her services.
To cut a long story short, nothing was too much trouble for Rue to arrange- you want it, she'll find someone to do it. We had exactly what we wanted and nothing we didn't. In addition any suggestions Rue had to some our requests enhanced our wedding day.

The planning took a year and by the time we flew out we had such confidence in her that we weren't worried about what we'd find.

The day itself was nothing short of magical, all the arrangements ran without a hitch, all the people Rue uses are top notch professionals (you should see our photos!) and we can't thank Rue enough.

Thank You Rue,

Regards
Simon Mingaye